---
---
Pacific Mountain Region of United Church of Canada
The 2020 AGM was to be held in May at Victoria BC at the historic Crystal Garden convention centre. The May 2020 General Meeting of the Pacific Mountain Regional Council (due to Covid-19) is postponed until October 16-18, 2020. The 2020 General Meeting will be virtual using an electronic format.
The mantel of President was passed from Rev Jay Olson to Blair at the Saturday June 27, 2020 in the Celebration of Ministry Service at Highlands United Church in Vancouver.
for more info see
the Pacific Mountain Region website.
About Pacific Mountain Region of UCC (BC Conference)
Pacific Mountain Region (BC Conference) is an administrative and service-delivery body of The United Church of Canada. The executive Regional Minister is Rev. Treena Duncan. We provide staff, finances, advice, advocacy and programming resources to 200+ congregations, hundreds of ministry personnel and numerous ministries in British Columbia including camps, social service agencies, housing and care facilities, chaplaincies, hospitals and educational centres.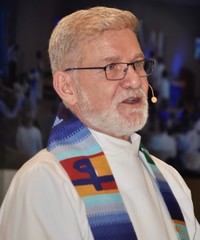 President - Rev. Blair Odney
Short biographies follows:
Rev. Blair Odney
, recently elected to the role of President of Pacific Mountain Region of the United Church of Canada at the 2017 AGM in Penticton. Blair is the lead minister at Lynn Valley United Church in North Vancouver where he has served for the past 10 years. Over those years, Blair has worked with the people of that congregation in the precarious work of property AND congregational redevelopment. Who are we as the people of the way, and how will we show up in this community, have been living questions. The number one priority for all of us at LVUC was to figure out how to be kingdom people even as we lived as itinerant church.
Blair has served the wider church in a number of capacities: he has served on the General Council Worship and Music Committee, he has chaired Music United - the United Church association of musicians. He has chaired Vancouver Burrard Presbytery, he has provided music leadership at many United Church events and last year, he chaired the Theme and Worship Committee of the general meeting of BC Conference.
One of the treasures that Blair brings forward from the clay jar, as an ambassador for Christ is the resounding gospel message that each of us is God's beloved, called into the fullness of who we are, to bring healing and hope to a world that seems to pit one against the other. Echoing the sixth day in the story of creation, the church's job is to help people to remember their goodness, and that of all creation; loving the world as God's loves the world.
Pacific Mountain Region Presidents
| | |
| --- | --- |
| Years | Name |
| 2020-2021 | Rev. Blair Odney |
| 2018-2020 | Rev. Jay Olson |
| 2017-2018 | Rev. Cari Copeman-Haynes |
| 2015-2017 | Rev. Keith Simmonds |
| 2014-2015 | Rev. Karen Medland |
| 2012-2014 | Rev. Jenny Carter |
| 2011-2012 | Rev. Deb Bowman |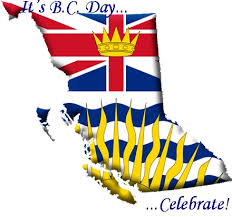 Pacific Mountain Region website

Pacific Mountain Region News releases.

Sign up for weekly Pacific Mountain Region updates.

broadview.org
Founded in 1829, Broadview is the oldest continuously published magazine in North America and the second oldest in the English-speaking world. It has won international acclaim for journalistic excellence and garnered more editorial awards than any other faith-based publication in Canada.
Broadview and Broadview.org are owned and operated by Observer Publications Inc., a non-profit corporation registered under the Canada Not-for-Profit Corporations Act. While Observer Publications is affiliated with The United Church of Canada, it is an independent corporation, with its own policies, procedures and editorial programs. The publication is supported by subscriptions, newsstand sales, advertising, donations and grants.
Previously called The United Church Observer, The New Outlook and The Christian Guardian, Broadview is the fourth and current name in the publication's history. Now celebrating 190 years, the publication remains committed to highlighting stories about spirituality, ethical living, and social justice from a progressive Christian perspective, as well as sharing news and perspectives from and about The United Church of Canada.