---
---
Sermons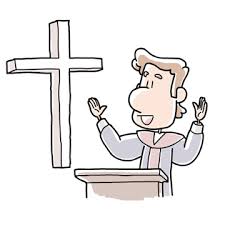 Click on the following sections to find out more information.
Quarterly Message
The quarterly message is found at the beginning of the newsletter.
Sermon
April 7, 2019
March 31, 2019
March 24, 2019
March 10, 2019
---
April 7, 2019


By Barry Sale
Mary's Gift
When I read this morning's gospel reading, I was reminded of a short story that I read sometime in the dim, distant past. It is entitled "Babette's Feast" by Isak Dineson. It takes place in a small village on the coast of Denmark many years ago. Two spinster sisters are the leaders of a small church which had been founded by their now dead pastor father several years previously. The size of the congregation has dwindled to eleven sour, self-righteous, elderly people filled with pride, all of whom are suspicious of each other.
One stormy, rainy night, Babette arrives at the sisters' door, drenched, exhausted, and sorely in need of shelter and food. She is a middle aged refugee from France, and she carries a letter of recommendation from an old friend of the two sisters. The letter simply says "Babette can cook."
Babette ends up staying 14 years with the sisters, cleaning and cooking for her room and board. Then she receives the exciting news that a lottery ticket, which a friend in France has renewed for her every year, has won 10,000 francs. The two sisters celebrate her good fortune, but begin to grieve what they believe will be the departure of their now good friend.
What Babette does next is a wonderful expression of love and gratitude. She proceeds to give an amazing gift to the sisters and the small group of pious elders. She asks permission to prepare a meal in honour of the 100th anniversary of the birth of the founding pastor. Furthermore, she insists on paying for this with her own money. Reluctantly, the sisters agree.
The eleven members of the church and a few other guests are present at this feast. As the cold wind howls outside, Babette treats them all to an incredible gourmet dinner (kind of like the ones put up for bid in last month's church auction) of turtle soup, quail, caviar, pastries, champagne and rare aged wine. It is unlike anything the village has ever seen. After the feast, Babette reveals that she was once the chef at a world renowned café in Paris. The sisters are aghast to discover that she has spent her entire 10,000 francs on the feast.
At first glance, it would seem that such an extravagant gift was wasted on an unappreciative group of pious malcontents. But that's not the way the story turns out. The incredible meal and the grace with which it was given are the catalysts for old feuds to be settled, friendship and love to be rekindled, and genuine Christian fellowship to be extended.
Now, let's zero in on today's Gospel narrative. John tells us that it was the day before "Palm Sunday" (and just a week prior to Jesus' crucifixion). Jesus and his disciples are in Bethany, a small town where Lazarus lived. Remember Lazarus – he was the man who Jesus raised from the dead. Also present were Martha, Lazarus' sister, who was busy preparing food and drink for the impromptu gathering. Then there was Mary, who could have been another sister of Lazarus, because we are told that Martha complained about her not helping out in the kitchen, or she could be Mary Magdalene, who was part of Jesus' entourage. What we are told about her is that she loved to sit at Jesus' feet, listening to him teach, and hanging on to his every word.
So, here's how it went down. The group was celebrating Lazarus' return from death. It was a real feast. Jesus was the guest of honour. After the meal was eaten, people were sitting around, relaxing. Martha was in the kitchen, busy cleaning up. Mary got up and found a pint of pure nard, a very expensive perfume. She poured it onto Jesus' feet and then wiped his feet with her hair. She was offering this very expensive gift (valued at about $20,000 in today's dollars) without any consideration of its cost.
Judas, who was the disciple responsible for the keeping of the funds they collected, immediately criticized Mary for what she had done. He points out to Jesus and the others that the perfume could have been sold and it would have generated a whole year's wages, money that could have been given to the poor. John, who obviously has no love for Judas, tells us that Judas was a thief and was more concerned about skimming money from the donations received, ad that is why he became upset.
Jesus interrupts Judas and tells him to leave Mary alone. He tells Judas that the perfume was intended for the day of his burial, but Mary has chosen to use it to anoint him now, while he is still alive and with them. He says that they will always have the poor among them to minister to, but he will not always be there. Jesus knows what lies ahead of Him in the next week. Perhaps Mary knows too.
So, just as Babette's gift was both extravagant and full of love, so was Mary's. Her willingness to use such an expensive offering to illustrate her affection and respect was   an act of genuine love and caring. And Jesus experienced her gift in precisely this way – a demonstration of unconditional love. Mary's example of genuine worship shows us what it means to love the Lord with heart and soul and mind.
There's a story about a hobo who walked up to the front door of a big farmhouse and knocked until the owner answered. The hobo said "Sir, could I please have something to eat? I haven't had a meal in days."
The well to do owner of the house said "I have made my fortune in the world by never giving anything away for free. If you go around the back of the house, you'll find a fresh gallon of paint and a clean brush. You paint my porch, and I'll give you a good meal."
The hobo headed off to the back of the house. About an hour later, he knocked on the door again. The homeowner was surprised. "You're finished already?" he said, "That was quick! Come on in and sit down. I'll have the cook bring you a meal."
"Thank you, Sir!" the hobo said, I must tell you though, you don't really know your cars. That isn't a Porsche back there. It's a BMW!"
You see, sometimes people just don't understand clearly. In our gospel story, Judas, Martha, (and many of the others) just didn't get it, but Mary did. She is the model of faithful discipleship. She had a profound sense of thankfulness for what Jesus did for Lazarus and for what Jesus was doing in her life. It was this thankfulness that moved her to break open the expensive perfume, to pour it on Jesus' feet, and to wash them with her hair. This incredible sense of gratitude defined the core of her relationship with Jesus.
In her relationship with Jesus, Mary found something very special and personal. Her love of Christ was unconditional and unlimited, just like the love that Christ offers to all of us. We just need to be a little more like Mary – thankful for His presence in our lives and willing to give our all to bring about God's kingdom here on earth.
May it be so in your life, and in mine.
Amen
---
Announcements
This week's events and announcements
---
March 31, 2019


John Christoffersen
based on Psalm 32
Psalm 32 reminds us how forgiveness, mercy, and reconciliation are central to God's way. Aligning ourselves with his spirit and righteousness leads to us being open to receiving the gifts of a joyful and purposeful life.
This Psalm is also titled A PSALM OF DAVID: A CONTEMPLATION (contemplation being understood as instruction). We are shown that, through penitence, our ransomed souls rejoice in the wonders of God's grace.
Shame and guilt are heavy burdens that break and alienate us form God. But sin can be dealt with, sorrow can be comforted, ignorance can be instructed away. What follows, David says, is the blessing of us receiving God's forgiveness.
In my last appearance in this pulpit I spoke on Psalm 1, which tells the way to be blessed: avoid the counsel of the ungodly or standing with sinners. Instead, be guided by God's word.
David knew what it was like to feel guilty about his sins. He knew the seriousness of sin and how good it is to be truly forgiven.
David provides us with three different types of sin:
Crossing a line or defying authority
Falling short of or missing a mark
Dishonesty or distortion
Then David describes three ways that God sends sin away:
Forgiveness is the lifting of a burden or a debt
The blood of Jesus covers our sin and
God does not have an accounting procedure. Our sins are not counted against us.
David declares that the forgiveness of our sins – whether against God or against man, whether great or small, whether conscientious or inadvertent, whether of commission or of omission – forgiveness is to be found in God. And a forgiven life no longer needs deceit to cover its tracks. A person can put aside the cloaks of resentment and piety, because forgiveness leads to honesty and the ability to live with a thankful heart.
It is interesting to note that the misery that sin causes affirms that we are God's children. God will not allow us to be comfortable in habitual or unconfessed sin. Feeling no misery for your sins would indicate that you should be concerned not only for the quality of your life but also of your afterlife.
So live a good life with an honest heart instead of a double life in order to hide your sins. Allow yourself to be open as to what causes you grief. You need not worry about earning God's forgiveness because you will receive it… immediately and fully. There are no probationary periods or wait-and-see clauses attached to God's forgiveness.
Forgiveness is good, but fellowship with God is better. Place yourself under his care… let God be your secure, reliable, encompassing, confidence inspiring shelter. You will be blessed by being instructed and guided by the eye and hand of God. Being in fellowship with God is more than being watched over; take the opportunity to be surrounded by our Lord.
This Psalm gives reasons for believers to be glad, to rejoice, to shout for joy. Remember those reasons and live accordingly.
Amen.
March 31, 2019


John Christoffersen
based on Corinthians 5:16-21
In 2 Corinthians Paul offers us the metaphor of being in a new creation with Christ. Unlike our human reality, Paul affirms that in Christ the past is forgotten. In Christ we are given a new beginning; the past is released and we are renewed. We see the world in a new way and our future actions will stem from this new understanding.
This mention of a "new creation" may take you back to Genesis 1 and 2, the story of God's creation. From the beginning God intended that men and women work together, in concert with God, to be stewards of the Earth. To do that work is a core element of our existence.
God brought this new creation into existence by sending his Son into the old creation to transform or reconcile it. In Christ, God was reconciling the world to himself.
And those who follow Christ, who are reconciled to God by Christ, are to carry on Christ's work of reconciliation. Every day, as we go out to fulfill our purposes in life, we are to be ministers of this reconciliation. It may be with those with whom we are in conflict, or it may be to provide goods or services that meet genuine needs, that improve the quality of life or improve Creation.
In doing this work we need to focus on benefiting people rather than judging them. We need to understand their situation, and view them not as an object to be exploited, eliminated, or effused over, but as a person for whom Christ died and was raised. To be Christ-like is to cultivate rather than dominate. To care for the people we live among and try to improve our workplaces, our products, and our services is to become agents of Christ's reconciliation.
Paul knew that this level of faithfulness comes with a cost, so Paul assures us that living as ambassadors for God's reconciliation is walking the path of righteousness.
Continuing to show the mercy and compassion of God are comforting affirmations when we apply them to our individual lives. They remind us of the never ending possibility for new beginnings and fresh starts.
Amen.
---
Announcements
This week's events and announcements
---
March 24, 2019


Rev. Linda Hunter via Together We Worship
Exploring the 5th Gospel
Well, we're now deeply into the season of Lent. This is the third Sunday in the season of Lent. It's a six week season in the church year and it is an opportunity for us. We take this opportunity as we prepare for the events of Holy Week – all the trauma, the drama of that week in the life of Jesus and in the life of us as Christians. We take this six week period as an opportunity for reflection, introspection, an opportunity. Perhaps to read scripture, take long walks and to seek to reconnect with our God and to walk with Jesus as he is making his way around Palestine. Slowly making his way to Jerusalem and all that would occur during Holy Week. So this Lenten season we often – from what I can see in my time of studying the Bible and all the Lectionary readings – we often spend time looking at the book of Isaiah, so the reading's from the book of Isaiah.
The book of Isaiah of course is one of the longest books in the text, in the Hebrew Scriptures. It is a towering piece of work actually. It is revered by our Jewish sisters and brothers. Certainly Christians have looked to Isaiah for much inspiration and in fact some have dubbed it the fifth gospel, there's so much in here that speaks to Christians. Beyond the religious world, it is also beautiful literature. Powerful inspiration sayings that kind of speak to life and our lives.
I want to speak for just a few moments about Isaiah. There's always lots of debate about who wrote the book of Isaiah. That's starting to fall away from scholars – that sense that there were three authors in the book of Isaiah and then there's all these raging debates of who wrote what and in what period. But Walter Brueggemann says that actually not to get caught up in that, but to look at the book of Isaiah as a wonderful prolonged meditation on the centrality of Jerusalem to the life of our Jewish sisters and brothers. All of it is centred on Jerusalem and all the events swirling around in terms of before the exile, the exile, and then the restoration and the post cyclic period. As we look at this as Christians, here's another cautionary thing about the book of Isaiah. Christians tend to misuse the Hebrew Scriptures actually, we tend to read back into them things that we want to have it say to us as Christians that were not intended at all. In fact, when we do this reading back, into these beautiful, venerated, texts for the Jewish people, we can cause difficulties and our Jewish neighbours feel that we in some way, we denigrate their scriptures. For example, just one prime example out of the book of Isaiah, is that sense that it is speaking about Jesus, the Messiah. That is why it has been called the fifth gospel, I suspect. But that's not the case at all. It is speaking about Cyrus the Great, who would ultimately release the Jews from their exile so that they could return to their homeland. Yet we use that sense of the Messiah and we've looked back, read back and therefore we've said "Isaiah's talking about Jesus" and he wasn't at all.
When we read Hebrew Scripture, as Christians with our Christian frame we are wise, perhaps, to sit with the text and to have some fine Jewish person beside us to help us truly read the text and find out what it meant for them in that era, in that culture, in that time and to their religious life. We should always have caution around that kind of thing as Christians, when we're reading back into these revered texts.
So let's get to the text. The lectionary for this third Sunday in Lent, comes from Isaiah 55 and I'll just read a couple of verses for you. Reading from chapter 55, verse 1,
"Ho, everyone who thirsts come to the waters;
and you that have no money,
come, buy and eat!
Come, buy wine and milk
without money and without price.
So why do you spend your money for that which is not bread,
and your labor for that which does not satisfy?
Listen carefully to me, and eat what is good."
I think that Isaiah, again when we look at the inspirational part of it, speaks to me so much about an authentic relationship with God. Seeking to find, in the midst of all the things that are going on around in his world (so much that was going on in his world) but to seek to deepen the relationship with God and to find an authentic relationship with God to set aside those things that – in our life –surround us like having money and status and so many of those things that hem us in and kind of cloud our vision, or serve as static between us and God. Isaiah is encouraging us to eliminate the static as much as we can as human beings and to enter into an authentic relationship with God in which our thirst will be quenched and we will be fed in ways that will enrich the spirit. He is speaking here – for me at least anyway when I read it – he`s speaking of that spiritual food that we need, that helps us to be authentic, that makes us real in our relationship with God.
There`s a wonderful book that I love, it`s my favourite book. No it isn't unknown name or Walter Brueggemann, it comes to us from Margery Williams who wrote The Velveteen Rabbit and it is one of my favourite books. I was introduced to it when my grandchildren were just wee babies and I would read to them and found this beautiful book, The Velveteen Rabbit. When I mentioned about Isaiah asking us to step into a relationship with God that is real, authentic, that is about the deep spiritual nurturing that all of us need, I thought of the Velveteen Rabbit. I'd like to read a wee bit of it for you.
  "Ah, what is real?" asked the rabbit one day.

"Well, real isn't how you are made," said the skin horse "it's a thing that happens to you. When a child loves you for a long, long, long time. Not just to play with, but really loves you, then you become real."

"Does it hurt?" asked the rabbit.

"Well, sometimes." said the skin horse, for he was always very truthful. "When you're real, you don't mind being hurt."

"Does it happen all at once, like being wound up?" he asked "or does it happen bit by bit?"

"Well, it doesn't happen all at once," said the skin horse, "you become. It takes a long time and generally by the time you are real, most of your hair has been rubbed off and your eyes drop out and you get loose in the joints and you look very shabby. But those things don't matter at all because once you are real, you can't ever, ever, ever be ugly. Perhaps except to people who don't understand what it means to be real."
I value the words of Isaiah, because he is encouraging us to be real and authentic in our relationship with God. He inspires us to think about things in a way that is very cluttered often. Sometimes the greatest wisdom that comes to me in my life, comes to me from my grandchildren who are growing every day and observing their world, and yet they are still uncluttered. Not that they don't see some of the things that are going on in the world, but they don't let it clutter their windscreen or obscure their windscreen. They are still able to have an authentic, real relationship with the environment. My youngest grandson (he's twelve now) at the school that he is at has started a project where they do not use plastic straws at all, anywhere in the school. I went to the principal and talked to the principal about that. I said, could we do without plastic straws for our drinks? This project kind of developed and away he went with it. One small little plastic straw one day when we were at McDonald's he said, I don't think I need to use a straw. So it is the small things and that sense of being connected to the world, to other people, caring about other people and certainly in the season of Lent for us to make real our relationship with God.
May your Lenten journey be rich and filled with those God moments that help you clear your windscreen and get real.
Amen.
---
Announcements
This week's events and announcements
---
March 10, 2019
By Barry Sale
A Lenten Reflection
Well, here we are in the church season of Lent. Today's scripture from Luke sets the tone for this season. The temptation of Jesus takes us on a spiritual journey into the wilderness, a journey which ends on a black Friday in Jerusalem with a gruesome crucifixion. During this season of Lent, Christians everywhere have the opportunity to recall this journey where the forces of evil try to trip up Jesus in every possible way, but Jesus triumphs over that evil.
Lent is a big part of the rich history of the Christian Church. It dates back to the third century AD, and it began as just a 40 hour fast of preparation for those believers who were going to be baptized on Easter Sunday. This 40 hour period coincided with the belief that Jesus spent 40 hours in the tomb.
As an aside, the number 40 is mentioned no less than 146 times in scripture. It generally symbolizes a period of testing, trial, or probation. Some of the more notable "40's" were:
Moses lived 40 years in Egypt and spent 40 years wandering in the wilderness with the people of Israel.
The Great flood was caused when God had it rain for 40 days and 40 nights.
The first three kings of Israel, Saul, David, and Solomon, each ruled for 40 years.
Elijah fasted for 40 days at Mount Horeb.
Moses was on Mt. Sinai for 40 days and nights receiving God's laws.
Over the years, the Lenten fasting period was expanded to include not only those who were about to be baptized, but all of the faithful, and it was lengthened. The church finally settled on a 40 day Lenten fast, beginning on Ash Wednesday and concluding on the Saturday before Easter. This 40 day period excluded Sundays, since each Sunday was considered a "mini Easter" a weekly reminder of the Resurrection.
The day before Ash Wednesday became known as Shrove Tuesday. To "shrove" or to "shrive" means to make a confession and to obtain absolution for oneself. The Tuesday before the Lenten fast became one where you went to church to confess all your shortcomings, to pray for forgiveness, and then to feast mightily to stock up for the 40 days of fasting to come. The French really took to this tradition. The big feast became known as Mardi Gras – literally "Fat Tuesday" and this celebration still continues in many French speaking areas today.
Ash Wednesday, on the other hand, was the first day of a very sombre period in the church year. Somehow the tradition began of dressing in sack cloth and covering the body in ashes. Thus the name Ash Wednesday. Many churches still use ashes in their litanies on this day, often making the sign of the cross with ashes on the foreheads or hands of the faithful.
So the number 40 was chosen for its significance in the Bible, most notably that Jesus fasted in the wilderness for 40 days. That story of Jesus' 40 day trial in the desert at the beginning of his ministry is the traditional gospel reading for the first Sunday of Lent each year.
Today, of course, very few Christians observe a 40 day fast. Instead, Lent has become a period of introspection and self-evaluation. People tend to spend more time in prayer, Bible study, and personal or private meditation and reflection. Often, people will "give up something" for Lent, or "take on" a discipline or activity. Many churches take special offerings for hunger and world development during this season. Lent's liturgical colour is purple, a colour associated from ancient times with repentance.
Some people have likened the season of Lent to a "wilderness time" which reminds us of other biblical wanderings and times of trial and repentance.
That's what Lent is all about to the Christian Church, but what about you? What does Lent mean to you personally?
Lent can mean a variety of things. It can be a time of reflection and self-examination as well as a time for inner healing. We can look back to the times we have fallen into the snares and traps we should have avoided along the way. We can examine our attitudes, our ways of responding, and we can root out such things as resentment and bitterness. The Lenten season is a time to examine those areas which have brought failure and disappointment. It's also a time for hope, hope that God is there for us, and He will guide us on our spiritual journey.
Today's gospel reading is all about temptation. One of the focuses of the Lenten season is resisting temptation. There have been all sorts of noteworthy quotations about temptation.
Flip Wilson: "The Devil made me do it the first time, but ever since then, I've been doing it on my own."
Sam Levenson: "Lead us not into temptation. Just tell us where it is, and we'll find it."
Oscar Wilde: "I wouldn't be tempted if temptation weren't so tempting."
Or the story about the little boy who desperately wanted a new bicycle. His plan was to save his quarters, loonies and toonies until he finally had enough to buy a new ten-speed. Each night he asked God to help him save his money. He prayed "Dear Lord, please help me save my money for a new bike, and please Lord, don't let the ice cream truck come down the street again tomorrow."
We all deal with temptation, and we know that temptation always seems to find us, usually at inopportune times. Luke's gospel reading this morning describes the three temptations of Christ – first to turn stones to bread and feed himself; second to give him authority and dominion over all the earth; and third to test the power of God. This Bible passage is quite metaphoric, with all sorts of symbolism in it as well. First of all, the desert, or the wilderness is a place of harshness and trial. It's a place which is very likely to bring out the worst (or the best) in people. Secondly, Jesus, or anyone else for that matter, after 40 days without food and with very little water, would be physically weak, mentally drained, and spiritually battered. I don't know if the devil actually appeared or if the whole thing was a hallucination, but the temptations must have seemed very real at the time.
The first one dealt with physical need. "Turn the stones to loaves of bread and eat." Jesus showed the strength and willpower to resist not trusting in God saying "Man does not live by bread alone." He was willing to wait patiently for God to provide.
The second one dealt with recognizing the power of God. "Just worship me and all this power and wealth will be yours." Jesus responded "Worship only the Lord Your God and serve only Him." He showed his unwavering commitment to God and his relationship to Him.
The third temptation dealt with believing in God and not questioning His authority. "Jump. God will order His angels to save you." and Jesus replied "Do not put the Lord God to the test." Even when his physical safety was at risk, Jesus showed a recognition and deep appreciation of the power of God.
These three temptations were symbolic of the kinds of temptations that all humans face. Spiritual and physical need, faith and belief in God, and turning away from the seduction of evil. Jesus' responses to the temptations provide us all with a template for how we should react when faced with similar situations where we are tempted to make wrong choices.
Back to a story about our little boy. This young man was in the grocery store with his mom. He just happened to be standing next to a shelf of chocolate chip cookies, upon which was an open box. The store manager spotted him and said.
"Son, what are you up to?"
"Nothing!" replied the boy.
"Nothing?" questioned the grocer, "Well it sure looks to me like you were trying to take a cookie."
"Well, you're wrong mister. I'm trying NOT to!"
Lent is a wilderness time, but wilderness times can be positive, fulfilling times too. In the Bible, the 40 years that the Israelites wandered in the wilderness formed them as a people and a nation. The wilderness time that John the Baptist experienced paved the way for the ministry of Jesus. The wilderness time of Jesus' ministry saw many miracles accomplished, including the feeding of the multitudes.
Even though today's gospel passage focuses on the temptations of Jesus, it is very important to note that Jesus was strengthened by this wilderness time. Lent too can be a time, not so much to focus on guilt and shame, but to work on strengthening ourselves to resist temptation and address our shortcomings. It can also be a time to grow in our faith, to celebrate God's presence, and to prepare for the coming of Good Friday and the Easter miracle.
Lent offers us the opportunity to slow down, to enter our own wilderness, to reflect, pray, and find renewal in the presence of God. May it be so in your life, and in mine.
Amen.
---
Announcements
This week's events and announcements
.
.
.
.
.
.
.
.
.
.
.
.
.
.
.
.
.
.
.
.
.
.
.
.
.
.
.